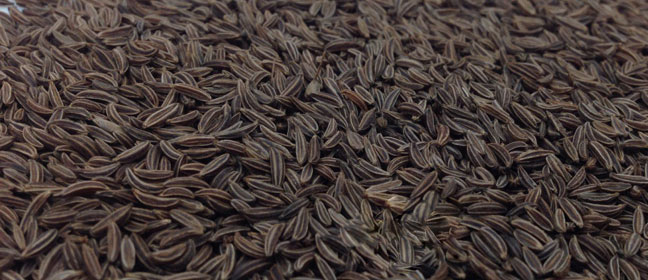 Description:
Name: Black cumin (scientific name: Carum carvil) and also is known "Persian cumin" and meridian fennel.
Variety: Dry (Row)
Part: Seed, Powder
Color: Dark brown or yellowish and clear
Shape: Small, piece, long, oval, round
Size:  The length is 2 – 6 mm and the Width is 1.5 mm.
Purity: 99%
Moisture: 11% Max
Aroma & Oil: All parts of plants are aromatic, but the fruit is rich and power in flavor, aroma (%7.3 Max) than green cumin and its oil is 7 % to 15 %.

Shelf Life: At cool place and cellophane & plastic about 24 Months.
Harvest Time in Iran: June/July
Growing Region: Kerman Province (Baft County), Khorasan Province, Semnan
Usage:
Used more for direct consumption as spice in food or as freshener in desserts.

Used lower for Medical consumption especially add to the other medical plants for treatment of diseases, Increase physical powers such as this plant has properties of antiseptic , anti-worm, anticonvulsant and muscle relaxant and  is strengthening for the body immune.
Finally
Ario Co is one of the main suppliers of Black Cumin Seed and powder with PREMIER quality in Iran. We will guarantee our quality because our main purpose is supplying and exporting products with high quality and purity to be provided customers satisfaction.
You can take more information about Cumin in this Here.

For an Inquiry Please Click Here.